Which Health Issues Can Salt Therapy Treat?
In the 19th century, medical professionals began to notice that salt miners had far lower rates of lung cancer and other respiratory ailments than their counterparts. This launched an age of experiments and observations which concluded that breathing in natural salt had positive effects on our bodies – and salt therapy was born. In modern times, salt therapy treatment is performed in clinics around the world, treating thousands of patients for conditions ranging from severe respiratory infections to skin conditions.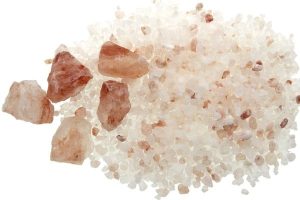 Halosense offers products that help you bask in the healing power of this natural wonder. Here are just a few of the conditions that salt therapy can treat:
Asthma
This is a condition where one's airways become inflamed or swollen, and produce extra mucus. It makes it hard to breathe or perform any physical activity, and is sometimes life-threatening if the sufferer has a severe attack. Evidence has shown that the healing effects of salt loosen the mucus, making it easier to remove from your airways and easier to breathe. Salt therapy can also help fight off inflammation, bring relief and improve breathing.
Psoriasis
One of the most common skin conditions, psoriasis occurs when extra skin cells form dry, itchy patches on the top of the skin. In the worst scenarios it can be highly unsightly. Oftentimes, skin conditions are a result of our body not being able to eliminate toxins. Salt treatments can help kill bacteria, fight against inflammation, and lower the level of toxins in your body. Halosense can help you get smoother, healthier skin in just a few salt therapy treatments.
Common allergies
Any kind of coughing, sneezing, wheezing, or other sinus or respiratory issues caused by allergens in the air can take away from the quality of your life, especially when they are severe. Not being able to enjoy the outdoors, be around pets or enter certain rooms of a house is a fact of life for many allergy sufferers. Salt therapy can help lessen the severity of allergies by clearing your lungs of allergens. It can also help regulate the flow of mucus, decreasing the severity of your coughing and sneezing.
Beside these conditions, there are many other respiratory conditions – such as bronchitis, emphysema, pneumonia, COPD, sinus infection, hay fever, snoring, stuffy nose and acute viral or bacterial respiratory infections that salt therapy can be of great help.
Our clients across the world come to us for treatment for a number of different conditions, but the thing that they all have in common is that they understand the healing powers of our salt therapy treatments. These are just a few of the conditions that salt therapy can treat, so if you are suffering from respiratory, or allergy issues, start down the path towards better health with Halosense.