Salt Therapy: Improving Overall Quality of Life with a Salt Machine
With many salt caves around the world and more salt room spas, salt therapy is becoming a widely used and popular treatment throughout the world. However, these methods can get quite expensive and sometimes the location of the salt cave or salt room isn't convenient. A salt machine is the perfect way to bring the salt cave right into the comfort of your own home!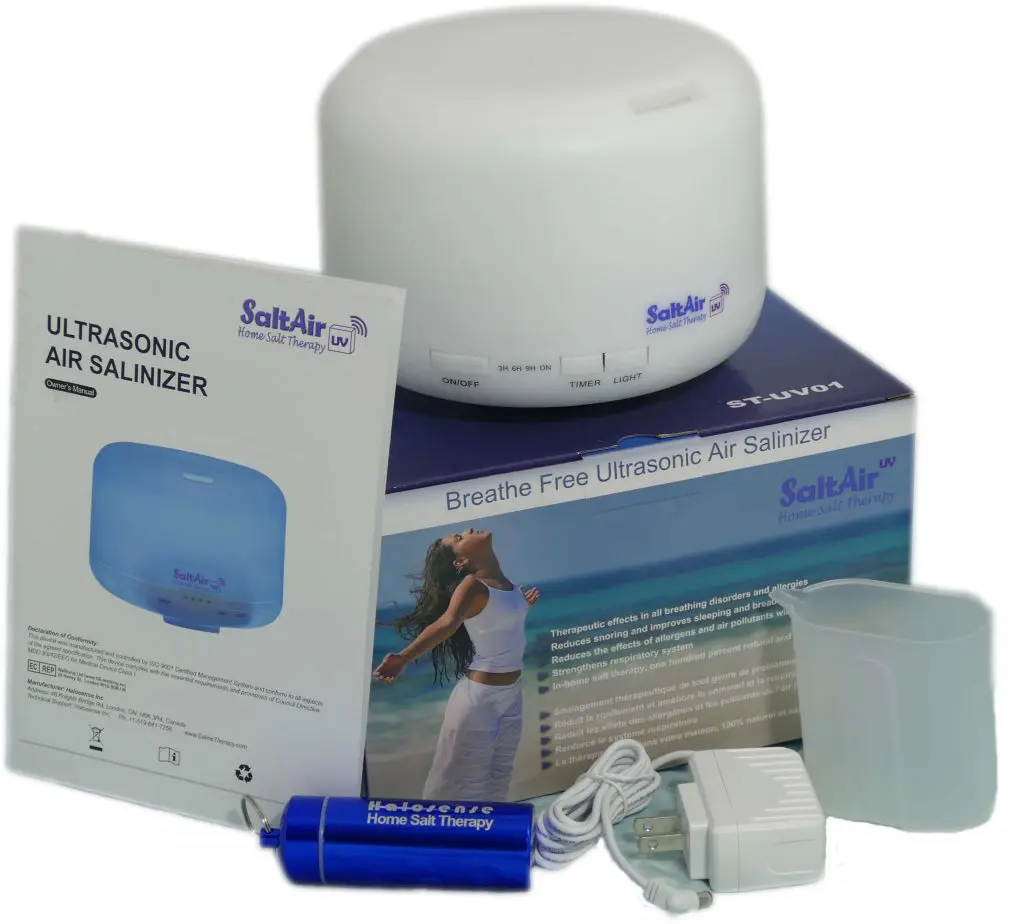 Salt Therapy Using a Salt Machine
The salt machine – also called Ultrasonic Salinizer – uses ultrasonic technology to transform a saline solution into minuscule salt particles. These microscopic salt particles are released in the air, for breathing. Inhaling these salt particles will help to reduce inflammation, fight infection and clear the stagnant mucus. As a result, it will improve respiratory conditions such as asthma, allergies, bronchitis, COPD, cystic fibrosis and more.
Salt Therapy Helps with Relaxation
Salt therapy is also a very lovely way to de-stress, relax and alleviate anxiety. Studies suggest that the release of negative ions have a beneficial effect on our nervous system. Salt naturally contains negative ions and salt therapy has the same effect. It reduces stress, headaches, lethargy and depression, and improves energy and mental acuity while stabilizing mood and sleep patterns. Negative ions are naturally abundant in places such as the rainforest and the beach; they are believed to stimulate serotonin in the body, helping people feel calm and relaxed.
Salt Machine as an Air Purifier
Using salt therapy at home by a salt machine like the one in the above picture, helps in cleaning the indoor air as well. The negative ions of salt stick to the positively charged particles of pollen, dust, bacteria, viruses and other pollutants. It helps to clean the air and eliminates odours. Breathe fresh and clean air every day!
Salt Therapy for Skin Conditions
Skin conditions such as psoriasis, rashes, eczema, and acne can also be improved with salt therapy. Pure mineral salt, like the salt used in our home salt therapy, has natural moisturizing properties. It helps with the skin's water balance by attracting moisture to the skin.
Salt is also antibacterial, anti-viral and anti-fungal keeping the skin clean and fighting infections. In skin conditions like acne and eczema it promotes healing.
Salt therapy is one hundred percent natural, drug free, and very safe. It can be used for any age group, providing immunity and reduce risk of infection down the road. Salt therapy can be used alone or it can be combined with other medical prescriptions. In this case, it will often reduce the amount of medication taken in the prescribed treatment.
Why Salt Therapy at Home
A common concern about salt therapy is if it's harmful to breathe in too much salt. While ingesting too much salt can be harmful for the body, breathing in the microscopic particles of salt is not. Breathing the salt aerosol does not increase the salt intake. The particles of salt deposit on the respiratory mucosa and are eliminated with the mucus. Inside of the respiratory system, the salt particles help to fluidize and clear the mucus. The salt aerosol also reduces the inflammation and kill bacteria, viruses and fungus.
So, if you have tried all the medications possible for your stuffy nose and bad cough, it's time to try home salt therapy! With no harmful side effects, salt therapy is beneficial for overall well-being. It essentially cleans out your respiratory system, improves the appearance of skin, and boosts the immune system. It's the easiest treatment possible, without any user involvement. It can be used during the night sleep, with so many advantages. All you need to do is to place the salt machine next to your bed, on a night table, and direct the slight air stream towards you. This way you freely breathe in the salt particles released by the salt machine, and let the salt work its magic.
It acts quickly on relieving symptoms and improving breathing. In time you will find saving you numerous trips to the doctor's office because it strengthen your respiratory immunity. Saltair – Home Salt Therapy machine is small, easy to use and effective and has a lot to offer if you bring it home!
Click salt therapy avenues to find more about different salt therapy methods.