How Salt Therapy Works
There are numerous perks to salt therapy. First, it's natural and non-invasive. Second, it improves your respiratory and immune system significantly. However, the best part of salt therapy is it really works!
There are many ways to undergo salt therapy nowadays. For example, you have salt therapy in a salt room if you prefer a quiet and tranquil spa day.
You can travel to natural salt caves or to the seashore. Furthermore, you can even use a SaltAir device at home!
Try it for a month and if you don't see any improvement we will refund your purchase in full.*
*Shipping costs not included in refund and the product must conform to our policy.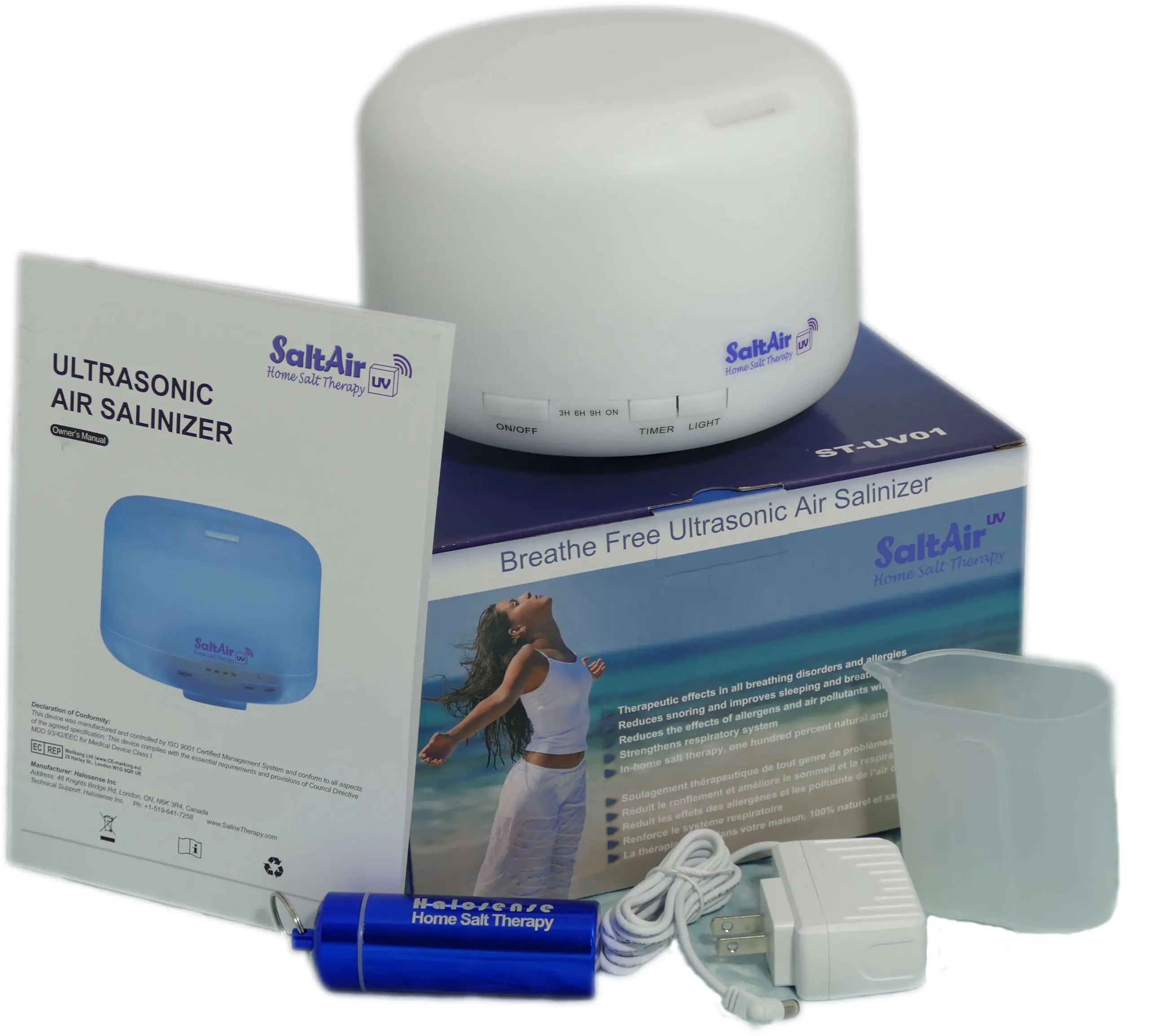 The Basic Principles of SaltAir Devices
SaltAir devices use ultrasonic vibration technology. This transforms saline solution into under 5-microns salt particles. The salt particles release into the air and travel into your respiratory system. SaltAir devices are not humidifiers! They do place an insignificant amount on humidity into the air. However, they do so much more than that. SaltAir devices provide salt therapy at home with easiness and efficiency!
These breathable salt particles penetrate deep into the lungs and up into the alveoli. To add on, it clears mucus and kills bacteria. Therefore, this reduces inflammation and humidifies the whole respiratory tract. The salt aerosol has a very good effect in cleaning the indoor air as well. This is due to the bactericide property of salt and the high concentration of negative ions that stick to the positively charged particles. For example, dust, bacteria, and viruses are all positive particles. By partaking in salt therapy, you're ridding yourself of positive particles. It's a good thing!
Declaration of Conformity: This device was manufactured and controlled by ISO 9001 Certified Management System and conform to all aspects of the agreed specification. SaltAir device complies with the essential requirements and provisions of Council Directive MDD 93/42/EEC for Medical Device Class I.
Our MD Establishment Licence is also available here.
Our EU representative registration.
Salt Room Worldwide Distribution Map (Salt Therapy in a Salt Room)
Who Can Use A SaltAir Device?
SaltAir is effectively used in any chronic respiratory diseases. It reduces inflammation, unclogs blockages, cleans the respiratory system and eases breathing.
As a preventive method, the device offers protection. Some examples include allergens, colds and the flu. It does so maintaining a good hygiene and strengthening the immunity of the respiratory system.
It is a very safe therapy for all people and ages, including infants and pregnant women. Additionally, it does not interact with any salt free diet or medication. Furthermore, SaltAir device can also be used for respiratory problems in pets.
Babies under 4 months old can only breathe through their nose. So, when they get congested it is hard for them to nurse. Using a SaltAir device will help an infant breathe easier and strengthen the respiratory immunity.
This treatment is perfect for infants with a stuffy nose!
Where Can You Use SaltAir?
SaltAir devices are small enough to be placed behind a couch, on a night table or on an office desk. They are 100% noise free. They're also easy to operate and work while you're asleep or awake. This device offers the extended exposure necessary to heal certain conditions.
To get the best results, use the device on a daily basis! Salt therapy has cumulative effects. Use it in your bedroom, in your office or living room! Take it with you when you are travelling. The longer you use it, the better you will feel!
More About Salt Therapy by SaltAir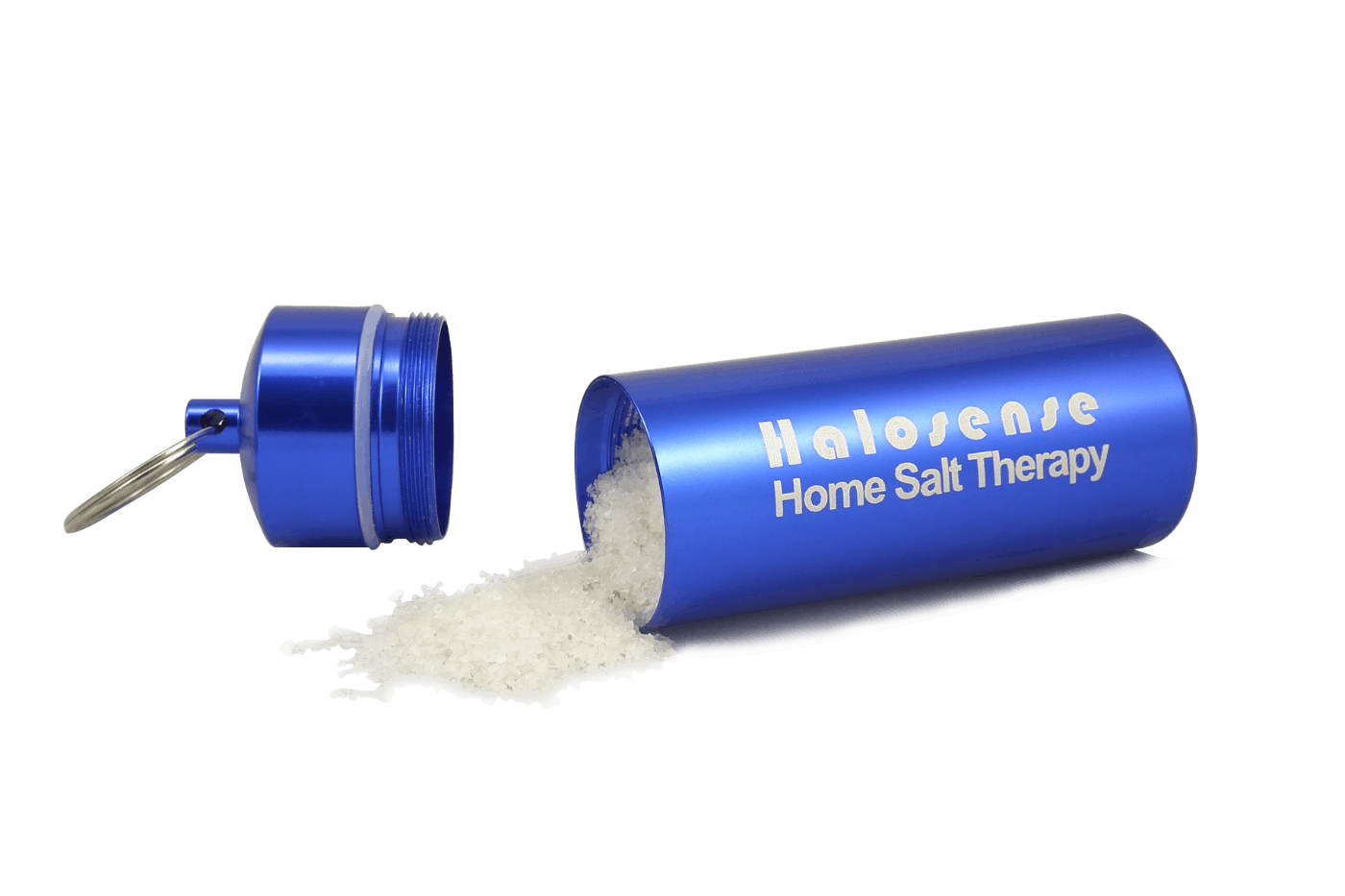 Note:
* The device has to be used only with our provided salt for the warranty to be in effect. Using a different kind of salt will void the warranty, as it can affect negatively the lifetime of the device!
We do not guarantee same health results using a different kind of salt!
**The device does not produce any environmental corrosion effects.
SaltAir devices come with a traveller electric adapter, instruction manual and a FREE 3-month supply of natural rock salt. The salt comes in a reusable waterproof key-chain tube. Thus, it's portable and very hassle free.
The device is easy to use and does not require wearing a face mask or a mouthpiece.
You just plug it in and use it during daytime or overnight. SaltAir covers an area of maximum 45-50 cubic meters (about 1700 cubic foot). However, due to the forced air heating and air conditioning, we recommend placing the device close to your bed. Direct the gentle air stream towards you. This way, you can make full use of it while sleeping.
It's important to note that the salinizer is designed for home use. It is NOT a humidifier! The humidity is minimal and the amount of salt aerosol is safe for home use. You won't even notice the salt particles. They're microscopic, majority under 2 microns. Thus, they're not visible to the human eye. These salt particles are released into the indoor air for breathing.
SaltAir uses only Middle Miocene Era mineral halite salt crystals, unprocessed and untreated with chemicals (98% NaCl, 0.5% calcium chloride and magnesium, 0.2 iodine and other minerals in their natural form). We also developed a melange of salts to speed your recovery in acute or flare-ups. Please find them in our online store and read more about how salt therapy works!
Our Reviews
The Ultrasonic Salinizer SaltAir is ideal for sufferers of any of the following problems (click below for SaltAir reviews / Testimonials from our customers). Home Salt Therapy is very effective in all breathing problems!
There are a few tips in using salt therapy!
Firstly, exposure time in a chronic condition is very important. You will need at least 7-8 hours daily exposure. It is best to get these hours during your night sleep. For extra exposure during the day, consider adding our Salt Inhaler or SaltAir mini for office use.
To maximize results, consider clearing your nasal passages with our Sinus Rinse system before bedtime. This way, the SaltAir aerosol will easily penetrate deep into the lungs. Thus, it will be able to reach the alveoli, which is the target area. This is because healthy alveoli leads to healthy oxygen exchange and better blood oxygenation.
If you have mucus that is difficult to expel, consider using SaltAir in conjunction with the Aerobika device. Use SaltAir at night and Aerobika in the morning. The salt aerosol will loosen the mucus during the night sleep and Aerobika will help to easier expel it in the morning. Aerobika is easy to use – you just blow into it and it creates a vibration that travels deep into the chest and helps to eliminate the mucus.
Our over 15 years experience in the home salt therapy field has been brought us great satisfaction in helping people breathe better and live a better life.
Customer Video Testimonials
SaltAir Salinizer – Tips For Best Results
Use the SaltAir salinizer (salt therapy machine) every day, for at least 8 hours, preferably while sleeping.
In chronic respiratory conditions or where improvement is not seen in 1-2 weeks, extend salt therapy during daytime for as long as possible.
In some cases, improvements may progress slowly, depending how the body reacts and the stage of the disease. One may only notice a difference after stopping treatment for 1-2 weeks.
Read the Instruction Manual before using the SaltAir device! Start the saline solution at 2 cups of water and 1/4 tsp of rock salt. Salt may be increased up to 1/2 tsp. No more than 1/2 tsp is necessary for therapeutic results! More salt will only shorten the device's lifetime. The suggested quantity of salt will create a saline solution situated between normal saline and slightly hypertonic saline. The device performs best when filled with no more than 3 cups of saline solution.
To remove the lid easier, make sure you place the lid with the logo above the buttons. Sometimes the salt may crystallize around the rim – applying a slight tap around the rim may help.
Place the device on a perfectly level surface – a nightstand is recommended – and direct the gentle air stream towards user. You may want to use a protective plate underneath the salinizer. This may prevent accidental leakage.
Turn ON the device at bedtime and use the Timer to set it for night use (6 or 9 hours). Let the device empty before refill. It takes several nights to empty. At refill, pay close attention that no water gets on any electrical parts, buttons or inside the unit. Do not move the device once is filled!
For daytime use, it is recommended to have another salinizer set up in living room or office.
Calcareous deposits may occur on the ultrasonic cell due to the minerals found in the rock salt; use a solution made with water and double strength cleaning vinegar (3:1 ratio of vinegar to water) to clean. Use a small brush and rinse with water.
Saline solution is antibacterial, antiviral and anti-fungal and does not promote any growth. Usually, people suffering from Cystic Fibrosis / CF are concerned about bacteria. For this reason a UV light feature has been added. You can turn On the UV light – for about 2 hours – during use or when not in use, to treat the saline solution.
If you cough a lot, use our "Melange of Natural Rock Salts" until the cough subsides; afterwards use the rock salt.
Clinical Studies Supporting Salt Therapy
FAQ (Frequently Asked Questions)