Stop Smoker's Cough with Salt Therapy
By now, it's a proven fact that smoking does nothing but harm your body. The dangers of smoking are advertised everywhere, even on cigarette packages. It's very easy to fall into the addiction of smoking, but it's a major challenge to quit it. It takes a lot of time for the body to adjust to the fact that it's not getting its normal dose of nicotine anymore. So, when the body doesn't get it, symptoms of withdrawal occur, and the smoker is tempted to grab a cigarette again. Most addicts brush off this addiction, saying that the chances are low of them getting lung cancer or having problems. But there are other smaller illnesses that can get in the way of your everyday life, even if it's not as dire as cancer.
Smoker's Cough Symptoms
All cigarettes, cigars, and vaporizers contain chemicals in them. When smoking these, your body, alarmed by the new invasion, tires to get the chemicals stuck in the throat and lungs out by coughing. It's a natural way for the body to free the airways up. When the coughing lasts for a long period of time after do smoke, it tends to be called smoker's cough.  Smoker's cough sounds distinctly different than regular coughing. Because there is a considerable amount of phlegm and mucus in the throat, more wheezing and crackling noises are associated with a smoker's cough.
Smoker's cough happens when the cilia in your airways become damaged and don't do their job as well. Cilia are hair-like structures in the airways that help in getting unwanted products out of the body. Smoking affects the cilia because they lose the capability to push the chemicals out of the lungs. The toxins then stay in your lungs for a longer period of time. This leaves the body no choice but to cough more in attempt to get rid of these toxins. The more you dry cough, the more inflamed and damaged become the airways. Smoker's cough can even become chronic if you're in the habit of smoking daily. It can even hurt your lungs and throat so much that you feel like you can't sit up. Smoker's cough can become a serious issue if it's not addressed properly. It can even lead to chronic obstructive pulmonary disease (COPD).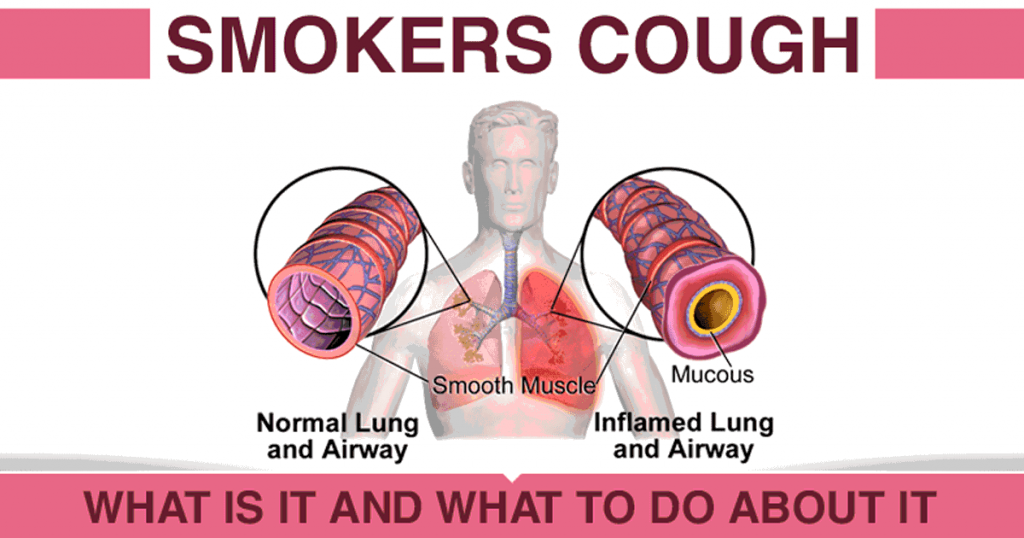 Smoker's Cough Treatment
Obviously, the best treatment to stop smoker's cough would be to quit altogether. However, quitting is a challenge to many, and it can take years to quit this habit. There aren't many instantaneous remedies. You can take cough medication, do physical exercise so that the mucus becomes looser and easier to expel; or sleep with your head elevated so that mucus doesn't collect in the airways. These can only go so far in providing relief for you. A treatment that can provide great help for smoker's cough is salt therapy. It's a natural therapy in which you inhale microscopic salt particles. These salt particles travel down to lungs and along your airways, loosening the mucus and clearing toxins with it. Salt therapy also helps the cilia. According to Cur Spa, "Dry salt aerosol improves function of cilia, increasing their cleaning efficiency and ability to move mucus out of lungs."
Salt acts as an anti-inflammatory. From all the coughing with a smoker's cough, the salt will be soothing on the airways and help reduce the swelling. For serious smoker's cough and COPD sufferers, it's been life changing. According to Healovation, in 2011 there was a project to provide salt therapy for a COPD sufferer, Clara Buffong. She only had good things to say, like "The Salt Cave changed my life. Before I visited the Salt Cave, I was on lots of antibiotics and steroids, none of which made me feel better. I was basically confined to my house and hated to be around people as my breathing was so noisy. However, this has now changed thanks to salt therapy. I know I will never get completely better, but the Salt Cave lets me live again and manage my illness in a way that I can enjoy my life again."
Is Salt Therapy Safe?
The effects of you deciding to smoke may affect you for as long as you live; so you might as well go try whatever treatments provide the most relief. Salt therapy is a perfect option. It's natural, provides instantaneous relief, and can be used as many times as the heart desires. There is no limit as to how much salt therapy you can do. The more you breathe in the salt aerosol, the better you'll feel. Stop letting your smoker's cough take control of you, it's time to take control of your life again and try salt therapy today!