Speleotherapy – Treatment For Respiratory Diseases
Speleotherapy and Asthma, Allergy and Other Respiratory Diseases
Underground climatotherapy or speleotherapy is an alternative or complementary method of therapy for asthma and other respiratory diseases treatment frequently used in Eastern and Central Europe. It involves spending 2-4 hours a day underground in salt caves or mines over a period of 2-3 months, yielding with impressive results. The salt micro particles reach the lung alveoli, bronchi, bronchioles, and clear all the airway passages in the upper and lower respiratory tract. Due to the inhaled saline's mucokinetic, bactericide, hydrophilic, and anti-inflammatory properties, it helps reduce inflammation leading to the widening of airway passages, kills bacteria, and restores normal mucus transport. Although not well-known in North America, salt therapy is an old and popular method of therapy in the Balkans and Europe. Many salt sanatoriums exist in the heart of salt mountains, and doctors conduct clinical research in countries where the treatment is covered by the health ministry.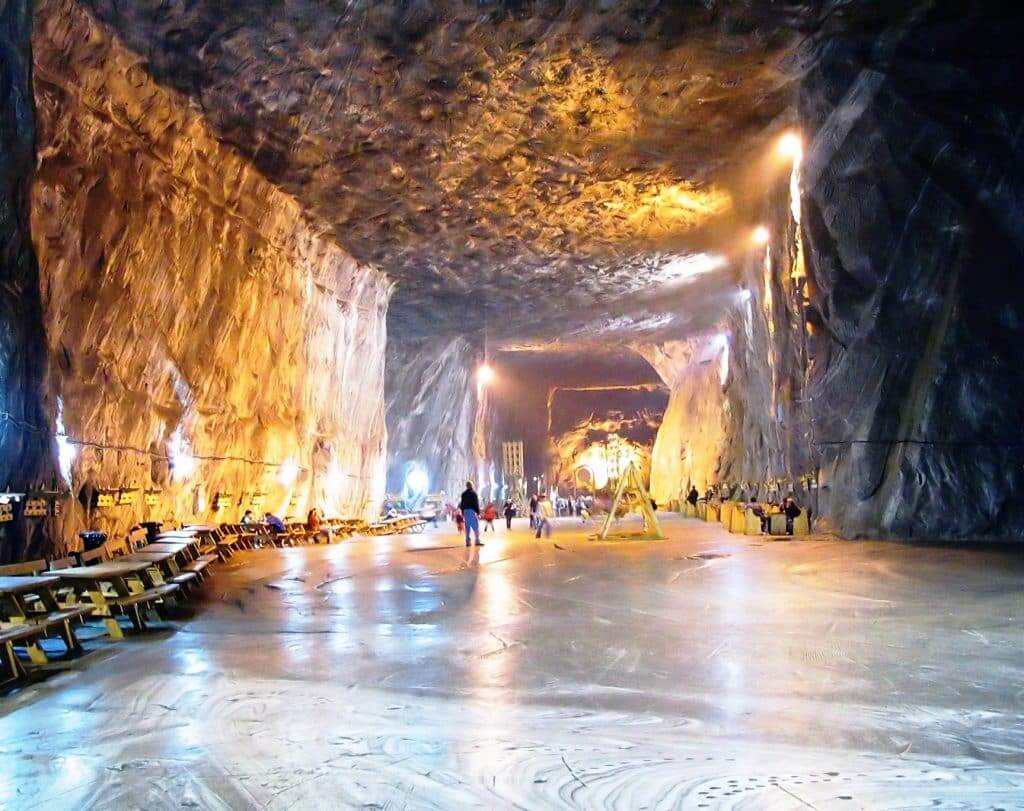 Clinical studies
An old study described a speleotherapy treatment of 4 hours a day for 6-8 weeks with 100 patients suffering from COPD (Chronic Obstructive Pulmonary Disease) and asthma, reporting improvement lasting 6 months to 7 years (Skulimowski, 1965). Similar studies are published in PubMed (MEDLINE) from Poland, Hungary, Czechoslovakia, and Russia. A more recent clinical study at Pulmonary Clinic, Ambulatory Section, Timisoara, Romania, involved 30 patients (19 with Asthma, 11 with Chronic Bronchitis). The study revealed that using a speleotherapy device (AKA Halotherapy device) for one year significantly reduced sore throat, nasal obstruction, snoring, cough, sputum secretion, associated rhinitis, annual hospitalization, and symptomatic medication intake. It also showed significant improvement in sputum elimination, olfactory sense recovery, sleep quality, morning condition, and overall clinical state.
Similarly, another clinical study at Cystic Fibrosis Center, Timisoara, Romania, involving 18 patients with Cystic Fibrosis using the same device showed a significant reduction in sputum secretion and crackles during auscultation, along with an improvement in respiratory functional syndrome, sputum elimination, and general clinical state. Additionally, a study on 22 patients with allergic rhinopathy, further demonstrated a significant reduction in nasal obstruction, sneezing, headache, and cough. It also showed improvements in sleep quality, serous-mucus rhinorrhea, sputum consistency and elimination, and general clinical state.
Lastly, a study on 63 children with Otitis Media (ear infection) revealed a significant reduction in moderate and severe clinical symptoms, drug intake, and serous-mucus secretion after tympanotomy. The study also revealed improvements in breathing, effort capacity, intellectual capacity, tympanic tube drainage, and general clinical state.
Speleotherapy proves to be an effective alternative or complementary method of therapy, leading to reduced antibiotics and corticoids intake, decreased annual hospitalization rates, and fewer asthma attacks.

Phone: +1 / 519.641.SALT