15 Health Benefits of Squash
Autumn's bounty of squash varieties has arrived on the shelves of stores and marketplaces. Squash is brimming with a wealth of nutrients and health advantages that deserve everyone's attention.
There are many varieties of winter squash (fall harvest squash) such as pumpkin, spaghetti squash, acorn squash, butternut squash and others less popular. Each type exhibits differences in color or shape, size and flavor. However, all have hard shells that allows winter squash to have a longer storage life.
Squash provides numerous health benefits that may reduce the risk of many diseases, including respiratory diseases. Some of these are asthma symptoms, breathing problems or shortness of breath, heart disease, diabetes, cancer and arthritis. Due to the high levels of alpha-beta-carotene (Vitamin A), vitamin C, magnesium, polysaccharides, antioxidant and anti-inflammatory compounds, squash should be on your menu list.
Here is a list of squash benefits: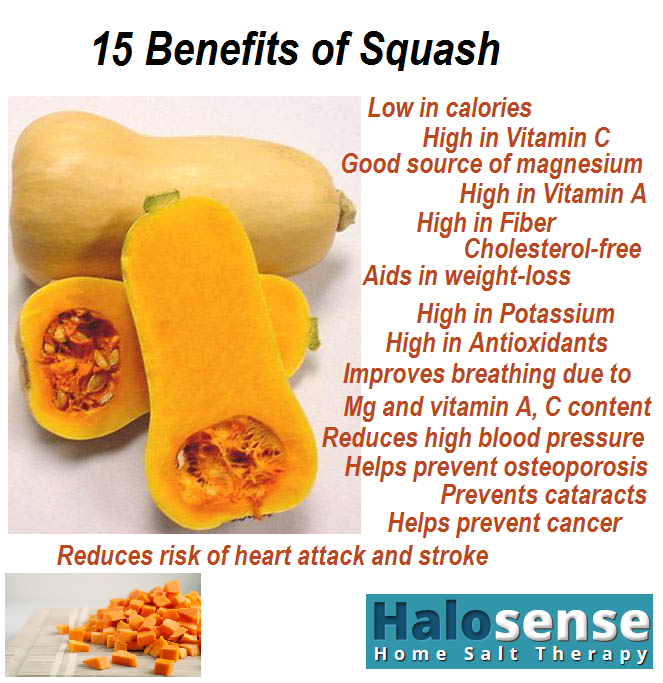 Winter squash can be baked, boiled or steamed and can be used in many food recipes and delicious desserts.
Do not forget to save the seeds that you scoop out of your winter squash! They are a good source of rich nutrients and a healthy and delicious snack. You can eat them plain or bake them with rock salt on a cookie sheet at 160 to 170 degrees, for about 15 – 20 minutes.
Check other health tips at www.HomeSaltTherapy.com