Emphysema is a long-term, respiratory chronic disease. People with emphysema have breathing difficulty, especially with exhaling the air out of the lungs. The most common cause for emphysema is smoking. Quitting smoking reduces the progression of the disease. This is the most efficient emphysema treatment.
Curios about what you can find in a cigarette, beside trouble breathing?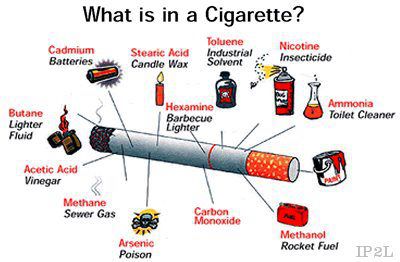 Emphysema is part of the chronic obstructive pulmonary disease (COPD).
What happens in emphysema?
Emphysema is diagnosed when the sensitive walls of the air sacs in the lungs are destroyed and this is irreversible. This damage usually occurs because of the toxins in the cigarette smoke. The air becomes trapped in lung air pockets, enlarge the air sacs and breathing becomes more difficult. These air sacs may break, damage and form scar tissue. During a lung function test, a person with emphysema will show a far longer time in emptying lungs than a healthy person. He will feel an obstruction at exhalation. Emphysema is the main disease under the COPD umbrella, followed by chronic bronchitis.
Smoking is a major cause of emphysema but is not the only one. Another factor is also the deficiency of Alpha-1 antitrypsin found in about 3% of people suffering of emphysema. Second hand smoke, air pollution, factory fumes and silica dust are all causes of emphysema. Alpha-1 antitrypsin is a natural protein that circulates in the blood stream. Its main function is to keep the white cells from damaging normal tissue. A normal presence of alpha-1 antitrypsin enables the white cells to distinguish between normal tissue and invaders cells in infections.
What are the symptoms in emphysema?
There could be no symptoms for many years, but as disease progresses, shortness of breath (dyspnoea) may slowly develop. In early stages of emphysema, shortness of breath may be only present with physical effort. Later on it may be present at rest as well. As the respiratory immunity is compromised, there are recurrent respiratory infections, pneumonia, chest infections, influenza and cold.
What is the treatment in emphysema?
Emphysema is not a curable disease. The main treatment is focused on managing the disease, slowing its progression and increasing the well-being of the patient. With proper treatment and changes in lifestyle, these are very achievable goals.
Quit smoking – smoking is the main cause and stopping smoking will help considerable to slow down progression.
Bronchodilators – relieve constriction in the air ways, breathing difficulty and coughing
Steroid sprays – help with shortness of breath and reduce inflammation. Side effects include weakened bones or osteoporosis, elevated blood pressure, weight gain, cataracts and diabetes. They must be used with caution!
Antibiotic therapy – recurrent chest infections require repetitive antibiotic treatments. These also have significant side effects and decrease respiratory immunity.
Natural therapies – breathing exercises, rehabilitation techniques and home salt therapy. These help in strengthening the lungs, clear the secretions and improve breathing. Home salt therapy is inspired by the seashore aerosol. The salt aerosol helps to clean the excess mucus production, reduces the inflammation and strengthens immunity. It increases blood oxygenation and fights bacterial, fungal and viral infections. It reduces the recurring lung and chest infections and provides quicker recovery from pneumonia. Home salt therapy helps the body's natural healing force to better fight emphysema and slows the progression of the disease.